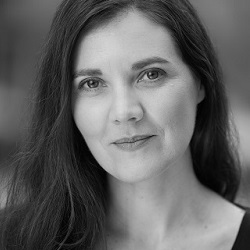 Maria Mikheyenko – Performer
Russian born Maria Mikheyenko, is a light coloratura soprano, classically trained at the University of Michigan School of Music and San Francisco Conservatory of Music. She has also earned a certification in Commedia dell' Arte with Maestro Antonio Fava in Reggio Emilia, Italy. Maria has sung operatic roles in the San Francisco Bay Area and abroad with companies such as the Austrian American Mozart Academy of Salzburg, Bay Shore Lyric Opera and Berkeley Opera. She has collaborated with jazz legends Bobby McFerrin, Dave Brubeck, and Meredith Monk as part of Pacific Mozart Ensemble, and Maria's musical theater credits include 42nd Street Moon's "Scrooge in Love", Pacific Coast Repertory Theatre's "Chicago" and Berkeley Playhouse's "Billy Elliot". http://www.mariamikheyenko.com/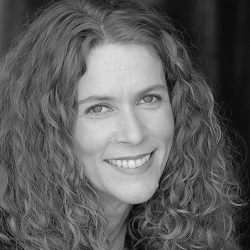 Karen-Meredith Wolf – Performer
Born and raised in Northern California, the multi-talented Karen-Meredith Wolf is an accomplished blues/folk singer, songwriter, recording artist, dancer, actress and author. She studied ballet with San Francisco Ballet, acting with Studio A.C.T. and earned a BA in French from Northwestern University in Chicago. Karen Meredith has performed with many esteemed San Francisco Bay Area theatre companies including North Bay Rep. Company, Willows Theatre Company and Mountain Play Associate, and has appeared in several musical theatre and ballet productions such as "Annie", "West Side Story" and "The Nutcracker". Karen-Meredith has a folk/blues solo CD, "Seminal Avatar" available on CD Baby.com and is the proprietress of Darwin Surplus:http://www.darwinsurplus.com/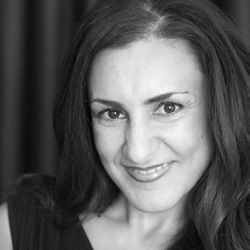 Velia Amarasingham – Artistic Director & Performer
Velia has 20 years' experience as a professional pop vocalist and 10 years' experience as a professional songwriter. She is a native of Sydney, Australia, and it is there that she studied drama with The Australian Theater for Young People before shifting her focus to music. Velia studied voice with Australian superstar, Marcia Hines, and performed with various Top 40 cover bands before relocating to San Francisco during the dot-com boom. Velia formed Her Rebel Highness in 2009, which has appeared live on ABC7 News and continues to perform at upscale venues such as the War Memorial, Fairmont and Sir Francis Drake hotel. In addition, she has written songs for corporate clients including Johnson & Johnson, Cadence and dSonic.
Michael Sommers – Performer
Michael Sommers is a well-established film, television, commercial and theater actor whose roles encompass everything from comedic to leading man. He plays "Bug" in the original Netflix series Sense8 and has appeared on television shows such as Trauma (NBC), The Evidence (CBS), Nash Bridges (ABC) and films including Bandits, Mousehunt, The Californians. Sommers has performed in San Francisco Bay Area theaters: Golden Thread (ReOrient) Brava! (For All the Babies' Fathers) and Crowded Fire (The Listener), to name a few, and has worked alongside name talent such as: Billy Bob Thornton, Robin Williams, Martin Landau and Don Johnson. Sommers is the founder and artistic director of "Uncle Buzzy's Hometown Theater Show!" and his one man show, "Vermont Boy In West Oakland" debuted at The Marsh, San Francisco in 2013 with rave reviews.
Danica Sena – Director, Choreographer & Performer
Danica Sena is an internationally renowned and award-winning choreographer/performer whose choreographies have been performed throughout the U.S., Spain, Mexico, Japan and the Czech Republic. She was the recipient of the 2014 Dancers' Choice Award in San Francisco, and along with her complete and eclectic dance training, Danica is a consummate singer, musician and actor. She has shared the stage with Noche Flamenca and famed director John Mauceri at the Hollywood Bowl, Rafael Aguilar and Lydia Cabello/Emilio Florido, to name a few. In the San Francisco Bay Area, Danica has collaborated with organizations including Cirque du Soleil, HP Pavilion/Indus Industries and SF State Dance. She is Founder and Artistic Director of Andanza Spanish Arts and teaches flamenco privately and as a member of the faculty at the esteemed dance school, ODC.
Simon Amarasingham – Composer & Musical Director
Simon Amarasingham is a professional composer, sound designer, keyboardist and producer. Originally from New Zealand, Simon moved to Australia in the 1980s, where he performed in rock bands and composed music for everything from film, to cellular phones, to console games. During the dot-com boom, Simon immigrated to the San Francisco Bay Area where he went on to form the award-winning audio production company, dSonic, with his brother, Kemal Amarasingham. Their corporate clients include Microsoft Games Studio, EA and Zynga. Simon serves as Her Rebel Highness Productions' composer, vocal arranger and music producer.