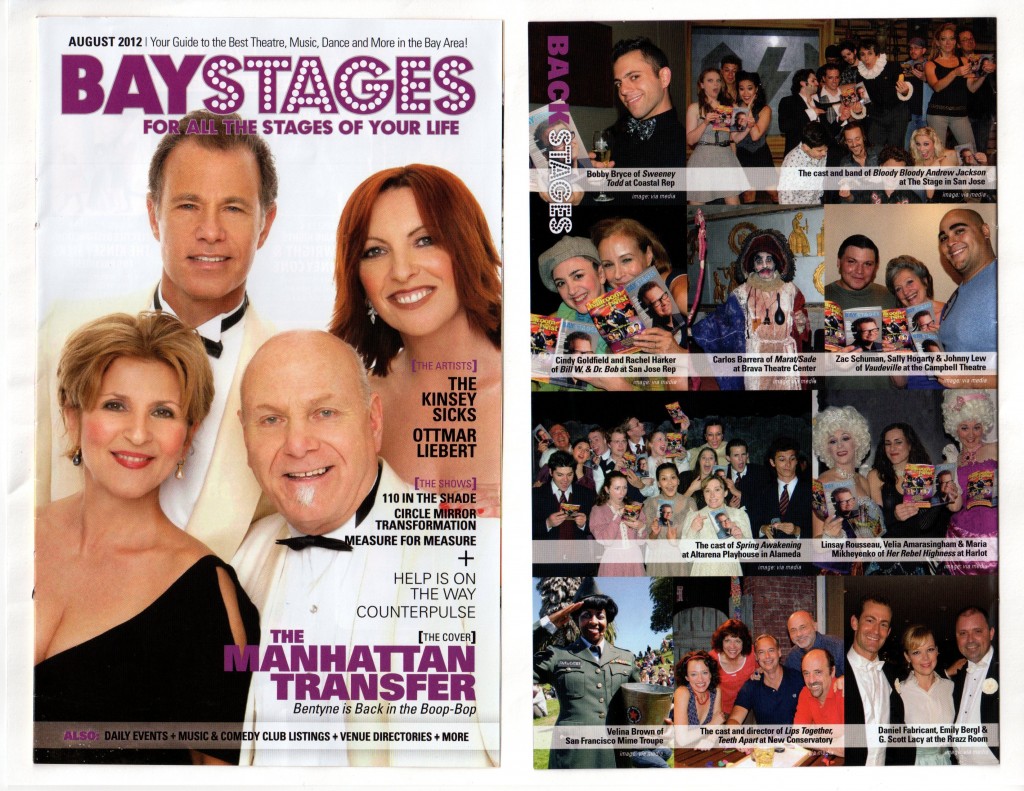 The Her Rebel HighnessPrincesses as photographed by Bay Stages Editor, Robert Sokol, 7-29-12 at Harlot, San Francisco
"Majestic Musical Review Featuring 'Her Rebel Highness' Harlot, 46 Minna, SF; www.herrebelhighness.com. Sun, 5pm. Through Aug 12. $25-65. A trio of 18th century princesses (the graceful, full-throated, international team of Velia Amarasingham, Linsay Rousseau Burnett, and Maria Mikheyenko), chafing under the patriarchal constraints of their otherwise exalted status, metamorphose into a defiant band of disco queens in this stylish, high-kitsch musical revue by writer-producer Amarasingham and composer–musical director Simon Amarasingham. The action begins in desultory fashion, bar-side in the Harlot lounge, amid scuttlebutt from a pair of chatty housemaids (Meira Perelstein and a tuneful Diana DiCostanzo) overseen by a giddy royal valet (a gregariously foppish Michael Sommers, also the show's emcee and narrator). When the dallying princesses finally arrive (sumptuously attired in appealing period costumes by Noric Design), they ascend a small stage attended by Lady Lucinda Pilon (a Goth-inflected Amber Slemmer, alternating nights with director Danica Sena), and launch into a slick set of tightly choreographed 'autobiographical' numbers as the prerecorded music progresses stylistically from smooth, harpsichord-tinted dance-floor beats to all-out four-on-the-floor Donna Summer–style revelry. Despite a certain static, slightly stark ambiance in the site-specific surroundings, with the right crowd and a couple of drinks this 90-minute revue is easily a doubly retro girl-power party for all."
The "girl power" movement may have gotten lost somewhere in British pop quintet the Spice Girls' ample cleavage in the mid-90s, but fortunately for us, the righteous spirit — and ample cleavage — live on in the form of three fictitious, 18th century princesses known as Her Rebel Highness. If you've ever asked yourself why the stylings of Jane Austen and Madonna have yet to be combined in a musical revue, then you are obviously a San Franciscan. This soulful, spry performance mashes classical and contemporary songs, dancing, and theatrics with an underlying theme of empowerment, and about eight feet of powdered wig. In addition, the event promises to be pleasing not just to the ear, but to the taste buds as well. Audience members will receive the royal treatment with complimentary, hand-crafted hors d'oeuvres by Mrs. Dalloways Catering — including Stilton and walnut tartlets and potted shrimp — as well as "princess-inspired" desserts. Whatever your normal station in life, once you step inside the SOMA nightclub-cum-aristocratic palace ballroom, you'll be regally transformed, and without the cumbersome frog-kissing that often accompanies such metamorphoses. It's bound to be a riot, grrl.
If you like Jane Austen — and Madonna — you'll love "Her Rebel Highness," a musical served with a three-course brunch Sunday at C'era Una Volta.
It's the story of three 18th century princesses who refuse to be the virtuous, dutiful, romantic royals they were born to be. Each of the princesses is rebelling against one of those expectations.
Princess Genevieve, played by popular R&B vocalist Joni Maxx, is not as virtuous as she is supposed to be. Princess Antonina, played by mezzosoprano Valentina Osinski, is not dutiful enough. And Princess Victoria, played by Alameda resident Velia Amarasingham, is hardly a romantic.
Amarasingham said she created the show to illustrate that those same expectations of women still exist. She was inspired and empowered by both Austen and Madonna.
"I find it fascinating that although Miss Austen's work was created about two hundred years before Madonna's, similar themes regarding the place of women in the world are addressed," Amarasingham said.
The elaborate costumes and 6-inch-high powdered wigs give the high-energy show a sort of "Beach Blanket Babylon" meets "Material Girl" feel, with some strong feminist themes thrown in for good measure.
"My goal was quite simply to develop a show that I would love to see: something completely new, high-energy, visually stunning, uplifting, and anchored by outstanding talent and thoughtful writing," Amarasingham said. She wanted to empower women to step away from the stereotypes and be themselves.
The ensemble, which also features dancer/choreographers Danica Sena and Norberto Martinez, has performed the show under the direction of Climate Theater artistic director Jessica Heidt at least a dozen times since its debut in 2009.  Audiences love it. Critics do too. 21st Century Music editor Mark Alberger called it an "ear- and eye-popping display of vocal prowess and visual splendor."
Seating for the Sunday brunch performance at C'era Una Volta starts at 11:30 a.m. for the noon show. Cost for the show and a three-course brunch is $45 for main floor seating or $35 for gallery seating (upstairs banister). To see the performance without the brunch (and for children under 10), the cost is $15. For more information about the show, visit herrebelhighness.com. C'era Una Volta is located at 1332 Park Street.
Three women place powdered wigs upon their wrapped heads, adding at least six inches to their height. Each pulls up her stockings, steps into elaborate, bustled skirts and helps each other pull the strings taut on their colorful corsets before stepping on the stage to empower women. They play 18th century princesses all rebelling against societal pressures, all created by five-year Alameda resident Velia Amarasingham.
Amarasingham, 38, came up with the idea three years ago.
"I started 'Her Rebel Highness' because I was at a crossroads performing as a solo artist. I was doing sort of dance, pop music and felt as though I'd said everything I wanted to say and needed inspiration for new material," said Amarasingham, who plays Princess Victoria and used to sing inbands. "I always wanted to do a big production that was absolutely gorgeous and make a show I would want to go see."
Fictitious princesses Victoria, Antonina and Genevieve depict women suppressed by their royal parents who want them to play the role of princess, yet all want to remain strong, independent people and not conform to a set rule. Amarasingham, along with her stage mates, have instilled this message into a theatrical and lyrical form — infusing classical with contemporary music and a lot of dancing.
"I'm very much into English literature and a huge Jane Austen fan, so the inspiration for the language behind the script of the show really comes from that era," explained Amarasingham, who also works for her husband's company and a bank in San Francisco. "I've always been interested, too, in the place of women in the world so that's really the inspiration behind the princesses. They are an exaggeration of what is expected of a woman — to be graceful, dutiful,
romantic yet sexy — all those things. So it really went with the theme."
"Her Rebel Highness" has been performed at least a dozen times since its inception for various female groups like women voters, breast cancer centers and business women's alliances across the Bay Area. They've also staged productions for New Year's Eve parties and at Pier 31 in San Francisco.
"The show deals with these three women all dealing with their own themes of repression and struggle to define themselves on their own terms," explained Valentina Osinski, who has played Princess Antonina from the beginning. "So, as each of the women goes through her individual struggles in her life, it resonates with people in the audience."
"The whole thematic material is all about finding that (empowerment) for yourself, going against the odds, not listening to the outside voices or even your own negative editorial voices," added Osinski, who lives in Petaluma. "But, really going for the essence of who you are and what you want your life to be and defining yourself according to those terms and especially for women that's a huge deal." Amarasingham agreed.
"I think the message of female empowerment is really the thing that intrigues people," she said. "I think women when they even see our promotional materials get excited about that concept about women feeling good, looking good, just projecting this sort of feel good message." Amarasingham has bigger dreams for her production.
"It's far too much of a commitment to be something to just do on the side. The short term goal is to create an attraction in the Bay Area, paired with a brunch or dinner so people come to see 'Her Rebel Highness' like another long-running show," she said. "I'd love to do a Vegas show with a full production, big vision with lots of characters, a big band and orchestra so people can really sort of experience what it's like to step into the 18th century."
The troupe will put on "Her Rebel Highness" at Alameda's C'era Una Volta Restaurant, 1332 Park St., noon-1:30 p.m. Sunday with an accompanying brunch. For more information and tickets, go to www.HerRebelHighness.com.