BRINGING FULLY CUSTOMIZED ENTERTAINMENT TO SPECIAL EVENTS
Based in the San Francisco Bay Area, Her Rebel Highness Productions brings Broadway calibre musical theatre and a cappella performances to your special event and venue. Whether it be a ballroom, club house or outdoor setting, this critically acclaimed, elaborately costumed theatre troupe configures their one-of-a-kind, scalable and interactive performances to your particular space and vision.
NEVER-SEEN-BEFORE PERFORMANCES
The troupe's unique skill set enables them to create original creative concepts for any
event theme. They compose original music, perform customized choreography
and design eye-popping costumes to create never-seen-before, impactful performances.
FOUR "PLUG & PLAY" EYE-POPPING COSTUMES/THEMES
– PIONEERS & IPOs: A celebration of San Francisco's pioneering culture
– HER REBEL HIGHNESS: 18th Century princesses, determined to write their own destinies.
– FUTURE GLOW: Cutting edge performance that transitions from ethereal to futuristic.
– SASS & SAMBA: Carmen Miranda-style costumes and lots of sass and shimmying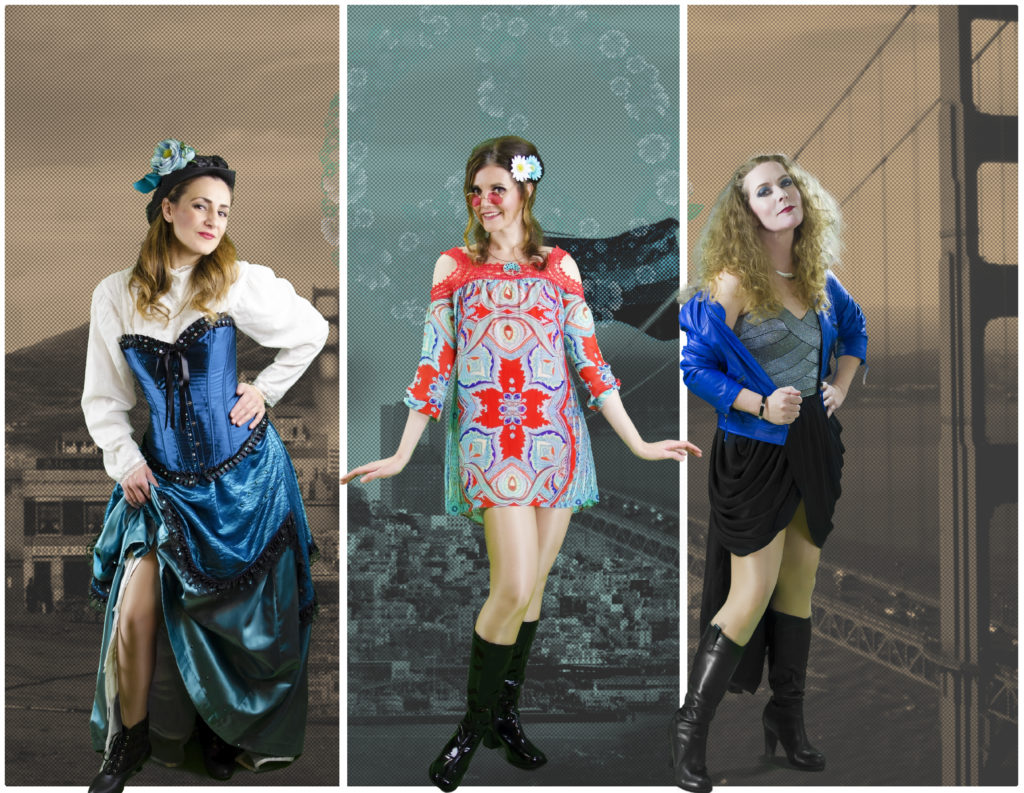 A UNIQUE, EXCLUSIVE & INTERACTIVE EXPERIENCE
Guests thoroughly enjoy being part of the show. The cast gives them an opportunity to do just that by performing among them and encouraging audience participation.
HOW HER REBEL HIGHNESS PRODUCTIONS WILL ENTERTAIN YOUR GUESTS
1. STROLLING A CAPPELLA TRIO: 3 stunning female vocalists greet your guests, mingle in character, sing in gorgeous, 3-part harmony and pose for photos. The cast carry extra props, so the audience can get in on the fun as well.
2. FEATURE PERFORMANCES: 3 stunning female vocalists are joined by 2 or more cast members to perform fully choreographed and staged musical numbers to an energizing soundtrack. Additionally, the cast act out intriguing skits among the audience for 5-30 minutes.
Choose from one of the four "plug and play" costumes/themes or request complete customization.
IDEAL FOR MANY OCCASIONS & ALL AGES
A perfect fit for galas, fundraisers, member events (eg: wineries & country clubs), customer appreciation events, birthdays and corporate events. Appropriate for all ages.